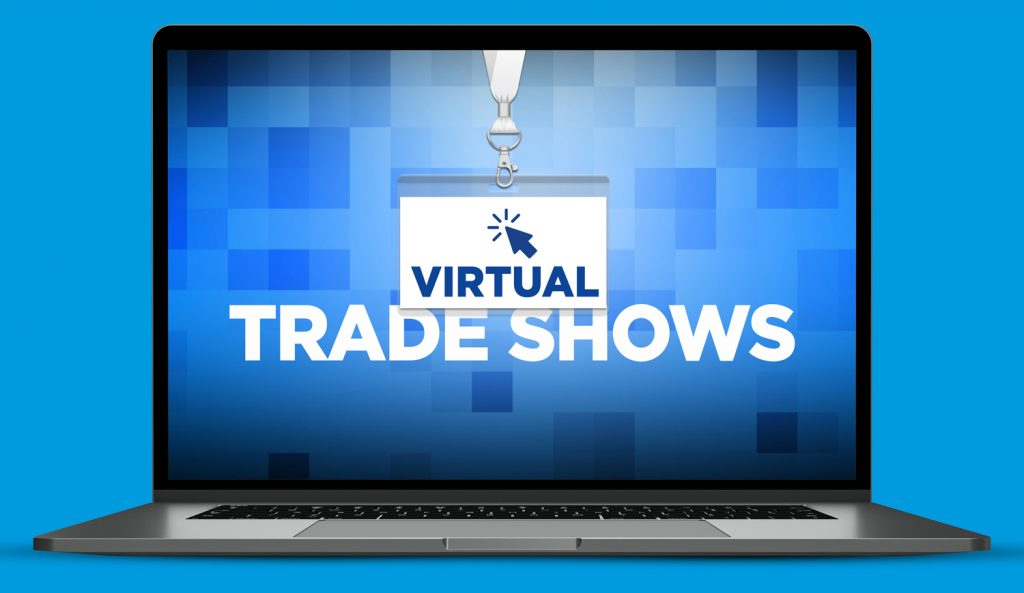 Top Tips for Taking Your Booth Virtual
In the post-pandemic era, trade shows are going online to keep attendees safe and adhere to health restrictions in cities across the U.S. Online trade shows, like their physical counterparts, can still be a good way to bring together industry professionals from across the country to share ideas and insights. To help your team navigate this new format and get the most out of their next virtual trade show, we've put together some useful tips for before, during and after the event.
Before the Show
Eliminate video conferencing issues ahead of time. Don't wait until the day of the event to make sure your computer's camera and microphone are working properly. Conduct some test calls beforehand. This will help surface any potential issues before the show and give you plenty of time to solve them.
Update those headshots. Virtual trade shows call for virtual business cards, so make sure your staff has updated headshots (taken in the last year or so) so potential customers can easily identify them on a video call. If your company website has a "Meet the Team" section, this is a great time to get those updated pictures placed there as well.
Lights, camera, trade show. Treat the room you'll be working in like a film set. This means making sure the lighting is bright enough and the room doesn't have any distractions. Turn on the camera you'll be using during the show and pay special attention to how your team and the space look; you may find you need to adjust lighting, camera angle, distracting signage on the wall or even posture.
Recording a presentation? Don't overdo it. One advantage to virtual trade shows is that you can record presentations in advance, giving you plenty of time to hone the perfect pitch. But be careful – there's a fine line between conversational and over-rehearsed, and your visitors can tell the difference.
Make your digital booth the best place to be. By populating your page with valuable online content, you can keep visitors engaged. Consider your printed assets, and if they can be converted into downloadable PDF files for visitors.
During the Show
Take your digital booth to the next level with branded backdrops. A consistent, clean backdrop (either virtual or physical) can give your sales team an extra level of polish during video conferences. Plus, it helps "clean up" their background location by removing distracting elements that may be behind your team. But be aware that virtual backgrounds have limitations that can show up during movement, such as bad edges or flickering elements. If your team plans on moving around a lot during a conference, a physical background may be a better option.
Plan your staffing needs carefully. Just like at a physical trade show, you want to ensure visitors to your digital booth can interact with someone when they get there. Consider the different time zones potential customers may reside in, and if possible, allow visitors to schedule an appointment to meet with your team so you can prepare.
Consider holding a giveaway. Encourage potential customers to visit your virtual booth by offering them a chance to win a prize. Offer up samples of your own products or services, and collect information from customers during entry to generate valuable leads.
Have your IT specialist at the ready. You can't predict unexpected tech issues, but you can have your technical specialist available to help address problems or make necessary adjustments during the show. This will help your sales team stay focused and calm, especially if a problem occurs during a meeting with a customer.
After the Show
Send out the samples. Consider allotting some of your budget to sending samples of your products that would have been given out at the show. Keep in mind which samples are best for shipping and how well they keep. This is a great way to follow up with prospective customers who you connected with at the show.
Send targeted emails. If you left the show with some great leads, now is the time to follow up with a targeted email (you can do this before the show too), encouraging potential customers to request a sample, learn more about your company or subscribe to your newsletter. To help remind customers who you are, include a picture of your team or a screenshot of your digital booth.
Repurpose great content. Were you especially proud of a presentation your sales team gave? Did you come away from the show with some valuable insights? Consider repackaging that content as an email blast, video, blog post or landing page. Offer your content as downloadable resources (an opportunity for lead generation!) or an animation/video.
Connect with prospects on LinkedIn. Did you collect some virtual business cards? Start a positive relationship with these potential customers by connecting on LinkedIn after the show. Send them a message reminding them of your meeting or a topic you discussed.
If you're in search of more great tips for either virtual or physical trade shows, contact us to see how we can help.
Ready to click into your next digital food ingredient industry trade show? What are you most (or least) looking forward to now that many trade shows have moved online? Leave us a comment below!